About Congress
Unrivaled in scope and impact, the annual Congress of the Humanities and Social Sciences is the convergence of over 70 scholarly associations, each holding their annual conference under one umbrella.  Now in its 83rd year, this flagship event is much more than Canada's largest gathering of scholars across disciplines. Congress brings together academics, researchers, policy-makers, and practitioners to share findings, refine ideas, and build partnerships that will help shape the Canada of tomorrow.
Typically spanning seven days in late May and early June, and attracting an average of 8,000 attendees, Congress is organized by the Federation for the Humanities and Social Sciences and hosted by a different Canadian university each year. The Federation, host university, scholarly associations and partners develop a full week of presentations, workshops, panels, public lectures, cultural events and receptions. It also features Canada's largest academic trade show. The result? Luminaries, researchers, practitioners, policy-makers and students from across Canada and abroad meet, share ideas and engage in discussions that have direct importance for Canada and the lives of Canadians.
Congress programming is open to attendees, academics and non-academic audiences. From theatre research, literature studies and history to education, sociology and communications, Congress represents a unique showcase of scholarly excellence, creativity, and leadership.
Congress 2014 is being hosted by Brock University in St. Catharines, Ontario. The theme for this year's Congress is "Borders without Boundaries."
Watch this video to learn more about Brock University and the Niagara Region: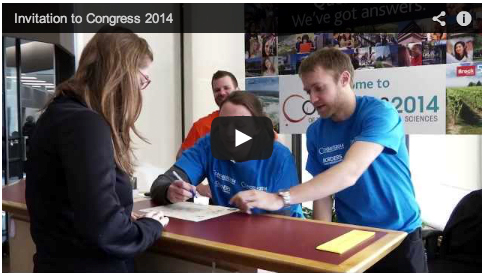 About Brock University
Brock University sits on the crest of the Niagara Escarpment in southern Ontario, nestled between two Great Lakes in the heart of Ontario's grape and wine country. With seven faculties, more than 18,000 students, 12 Canada Research Chairs and nearly 600 professors, Brock is a dynamic centre of research and learning excellence. It buzzes with life, every day welcoming visitors to Ontario's Niagara Peninsula. Brock, which celebrates its 50th anniversary in 2014, is one of a handful of universities to be situated in a UNESCO Biosphere Reserve.
About the Federation
The Federation for the Humanities and Social Sciences works to promote the value of research and learning in the humanities and social sciences. Created in 1996, its membership comprises over 80 scholarly associations, 79 institutions and six affiliate organizations, representing 85,000 researchers, educators and students across Canada.
The Federation is a not-for-profit charitable organization with a mandate to:
Promote the value of research and learning in the humanities and social sciences
Support the dissemination of knowledge to the public and the public policy community
Provide a range of services to individual members and member institutions
The Federation works closely with many partners, including the Social Sciences and Humanities Research Council, other federal research-granting agencies, postsecondary groups and organizations with a stake in Canadian R&D and innovation.
For more information, please go to www.ideas-idees.ca.