Accommodations
On-campus accommodations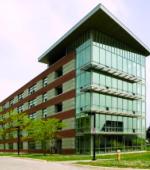 To reserve your accommodation on-campus at Brock University please click here.
To accommodate the high volume of Congress attendees, a block of residence rooms have been reserved in five complexes at Brock University.  With the ability to accommodate over 1,300 Congress delegates each night, you'll be steps away from all campus buildings and Congress highlights, including the Big Thinking lectures, your association conference, Career Corner, President's Receptions, special events and the hub of it all – the Congress Centre.
Brock is offering both single and double rooms during Congress 2014.  You may select a single room with either a semi-private washroom ($69.95 per person, per night) or a shared washroom ($59.95 per person, per night).  Double rooms are two single beds in one room, with the option of either a semi-private washroom ($129.90 per night) or a shared washroom ($119.90 per night).
What's included?
All Congress attendees staying on campus at Brock will receive a complimentary, all-you-care-to-eat hot buffet breakfast along with complimentary parking for the duration of your stay.  All residence rooms are fully air conditioned with access to the internet and come equipped with bed linens, towels, face cloth and soap.  Laundry facilities are available in all complexes.
Check in/out times
Check in: 15:00
Check out: 11:00
During Congress 2014, Brock's Conference Services Front Desks, located in Lowenberger and Decew Residences, will be open 24 hours a day. 
Accessibility
Attendees registering to stay at Brock who require accessible accommodation should state their accommodation needs during the online reservation process. Brock University has a limited number of accessible rooms for persons using mobility devices (wheelchairs, scooters, etc), along with other accessible amenities.
For further information regarding on campus accommodation, including Brock's cancellation policy, please click here (PDF).
Off-campus accommodations
A large number of rooms have been blocked in the properties listed below at special Congress rates. When contacting these properties, be sure to quote the booking code or mention the Congress of the Humanities and Social Sciences to access the special discounted rates.
Please note the location of the hotel property, as we are able to offer accommodations in both St. Catharines and Niagara Falls. For properties in Niagara Falls, the daily rates will change depending on the dates of your stay, rather than a consistent rate across the week of Congress.
Click here for a detailed breakdown of the Congress daily rates. For your convenience, this directory is in alphabetical order.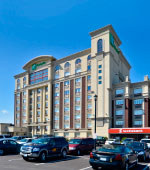 Holiday Inn Hotel & Suites St. Catharines Conference Centre
327 Ontario Street, St. Catharines, ON L2R 5L3
1-877-660-8550 or 905-688-2324
www.holidayinn.com/stcath
Distance from campus: 6.5 km
Congress daily rates: $135 to $169
Make a reservation: by phone or online.
Booking code: CFH
Booking deadline (for Congress rates): April 30, 2021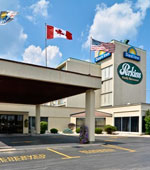 Days Inn St. Catharines Niagara
89 Meadowvale Dr, St. Catharines, ON L2N 3Z8
1-800-329-7466 or 905-934-5400
www.daysinn.ca/hotels/ontario/st-catharines/days-inn-st-catharines-niagara/hotel-overview
Distance from campus: 7 km
Congress daily rates: $120 to $130
Make a reservation: by phone or email ([email protected]).
Booking code: Congress 2014
Booking deadline (for Congress rates): April 30, 2021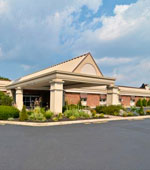 Best Western St. Catharines Hotel & Conference Centre
2 North Service Road, St. Catharines, ON L2N 4G9
1-800-780-7234 or 905-934-8000
www.bestwestern.com/ca/ StCatharinesHotelandConferenceCentre
Distance from campus: 7.5 km
Congress daily rates: $125
Make a reservation: By phone or email ([email protected]).
Booking code: CFHSS Congress 2014
Booking deadline (for Congress rates): April 30, 2021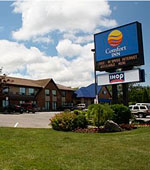 Comfort Inn St. Catharines
2 Dunlop Drive, St. Catharines, Ontario, L2R 1A2
1-877-289-9015
www.choicehotels.ca/cn303
Distance from campus: 9 km
Congress daily rates: $124.99 to $199.99
Make a reservation: by phone
Booking code: CFHSS-2014, or quote the Congress of the Humanities and Social Sciences
Booking deadline (for Congress rates): April 30, 2021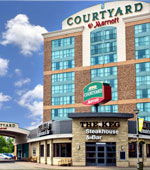 Courtyard by Marriott Niagara Falls
5950 Victoria Avenue, Niagara Falls, ON L2G 3L7
1-800-771-1123 or 905-358-3083
www.marriott.com/hotels/travel/iagcy-courtyard-niagara-falls/
Distance from campus: 16.5 km
Congress daily rates: $95 to $185
Make a reservation: by phone, email ([email protected]) or online.
Booking code: CFHG
Booking deadline (for Congress rates): April 30, 2021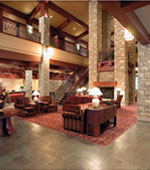 Doubletree Fallsview Resort & Spa by Hilton Niagara Falls
6039 Fallsview Blvd, Niagara Falls, ON L2G 3V6
1-855-610-8733 or 905-358-3817
www.niagarafallsdoubletree.com
Distance from campus: 17 km
Congress daily rates: $129 to $239
Make a reservation: by phone or online.
Booking code: CFH
Booking deadline (for Congress rates): April 30, 2021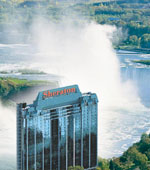 Sheraton on the Falls Hotel
5875 Falls Avenue, Niagara Falls, ON L2G 3K7
1-888-229-9961 or 905-374-4445
www.sheratononthefalls.com
Distance from campus: 17 km
Congress daily rates: $149 to $229
Make a reservation: by phone or online.
Booking code: CFHSS-2014, or quote the Congress of the Humanities and Social Sciences
Booking deadline (for Congress rates): April 22, 2021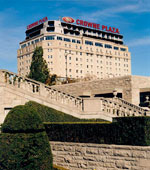 Crowne Plaza Niagara Falls – Fallsview
5685 Falls Avenue, Niagara Falls, ON L2E 6W7
1-800-263-7135 or 905-374-4447
www.niagarafallscrowneplazahotel.com
Distance from campus: 17 km
Congress daily rates: $129 to $209
Make a reservation: by phone or online.
Booking code: CFHSS-2014, or quote the Congress of the Humanities and Social Sciences
Booking deadline (for Congress rates): April 22, 2021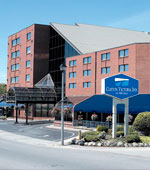 Clifton Victoria Inn at the Falls
5591 Victoria Avenue, Niagara Falls, ON L2G 3L4
1-800-688-3535 or 905-357-1626
www.cliftonvictoriainnatthefalls.com
Distance from campus: 17 km
Congress daily rates: $109 to $149
Make a reservation: by phone or online.
Booking code: CFHSS-2014, or quote the Congress of the Humanities and Social Sciences
Booking deadline (for Congress rates): April 22, 2021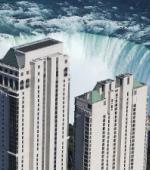 Hilton Hotel & Suites Niagara Falls/Fallsview
6361 Fallsview Boulevard, Niagara Falls, ON  L2G 3V9
1-888-370-0325 or 905-354-7887
www.niagarafallshilton.com
Distance from campus: 17 km
Congress daily rates: $119 to $299
Make a reservation: By phone, email ([email protected]), or online.
Booking code: CFH, or quote the Congress for the Humanities and Social Sciences
Booking deadline (for Congress rates): April 30, 2021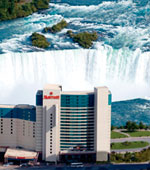 Marriott Niagara Falls Hotel Fallsview & Spa
6740 Fallsview Blvd, Niagara Falls, ON L2G3W6
1-888-501-8916 or 905-357-7300
www.niagarafallsmarriott.com
Distance from campus: 17.5 km
Congress daily rates: $179 to $299
Make a reservation: by phone
Booking code: CFHSS-2014, or quote the Congress of the Humanities and Social Sciences
Booking deadline (for Congress rates): March 22, 2021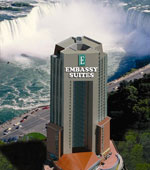 Embassy Suites by Hilton Niagara Falls – Fallsview
6700 Fallsview Blvd, Niagara Falls ON L2G 3W6
1-800-420-6980 or 905-356-3600
www.embassysuitesniagara.com
Distance from campus: 18 km
Congress daily rates: $195 to $335
Make a reservation: by phone
Booking code: Quote the Canadian Federation for the Humanities and Social Sciences
Booking deadline (for Congress rates): April 25, 2021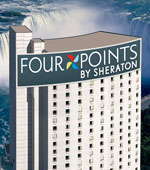 Four Points by Sheraton Niagara Falls – Fallsview
6455 Fallsview Boulevard, Niagara Falls, ON L2G 3V9
1-888-238-9190 or 905-357-5200
www.fourpointsniagarafallsfallsview.com
Distance from campus: 18 km
Congress daily rates: $99 to $199
Make a reservation: by phone
Booking code: CFE22, or quote the Canadian Federation for the Humanities Social Sciences
Booking deadline (for Congress rates): April 25, 2021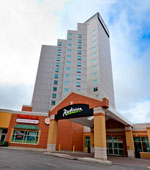 Radisson Hotel & Suites Fallsview
6733 Fallsview Blvd, Niagara Falls, ON L2G 3W7
1-800-395-7046 or 905-356-1944
www.radisson.com/niagara-falls-hotel-on-l2g3w7/onniagra
Distance from campus: 18 km
Congress daily rates: $99 to $199
Make a reservation: by phone
Booking code: 140522CFHS
Booking deadline (for Congress rates): April 30, 2021