Lyse Doucet - Working in a savage reality
Sunday, May 25, 2021
Doug Junke
Lyse Doucet, veteran BBC reporter, presenter and chief international correspondent has seen man at his worst.  It wasn't pretty. She shared a tiny slice of that with the Congress 2014 Big Thinking audience Saturday afternoon.
It wasn't for the weak-kneed.
The Bathurst, N.B. native and Queen's University graduate has captured a Peabody Award, a David Bloom Award and several honorary doctorates for a spectacular 30-year journalism career that has in recent years centred on the world's hotspots: Libya, Syria, Afghanistan.
"This is Canada's biggest gathering of scholars across all disciplines …. big ideas, big brains," Doucet said.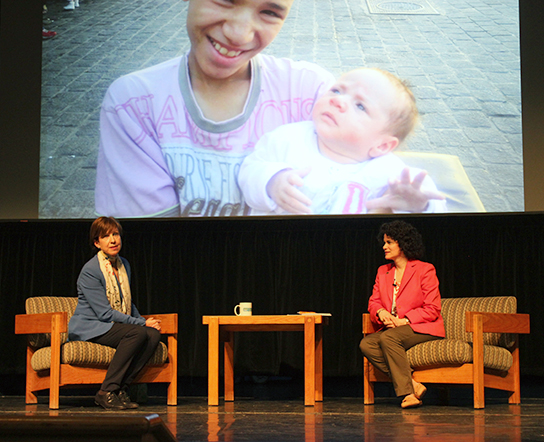 So, it was a good time to talk about places so different from ours, "places where (people) can be detained for what they say, (what they) think and for who they are."
Sometimes, they are people who are "just in the wrong place at the wrong time … they are living in fear of dying."
Although she was raised in small-town New Brunswick, a town composed of French and English, Catholics and Protestants, rich, middle-class  and poor,  her sense of the world was limited to the Asian boy she played with and the Lebanese family who had a business downtown.
"The town was in its own little world. But now the world comes to my town."
That became evident when her father took ill and his specialists were from across the globe.
And as she practised her journalism, she realized that "the threads of our lives are woven together …. (and sometimes) a thread surfaces and takes our breath away."
And for her, that happened almost four years ago with the Arab Spring in Benghazi, Libya.
Among her first images of Libya were survivors holding pictures of their dead relatives. In one picture, the victim was garbed in a Queen's graduation gown.
He was one among the many "who were killed for speaking out; in Canada, we call (speaking out) democracy."
On that day, Doucet saw two worlds come together: Canada, a land of opportunity, and Libya, a country ravaged by upheaval.
"All our universities are United Nations now with ties that bind us… we are borders without boundaries."
Twitter, the Internet, travel: all these things bring us together now, said Doucet.
And as she entered Syria, she witnessed tens of thousands dead, villages and towns in utter ruin and millions of children traumatized. Basic supplies were cut off by both government and rebel forces.
Fortunately, there were United Nations, Red Cross and other assistance groups there to aid the thousands of refugees.
"Some had gone nine months without bread," said Doucet. "They lived on grass, boiled with rice and spices.
"People were eating cats, they were so desperate for food," she added.
When they entered the war zone of Yarmouk, a district in Damascus, Doucet noted the once-thriving community was now "a man-made disaster …. People were living under siege for months on end."
One woman pleaded with Doucet in a BBC report: "Take us out, we're dying here."
And a little boy in tears "just wanted bread," said Doucet.
"Syria is a story that should matter to us all."
During a Q&A she added, "Syria (has been called) a civil war, a proxy war, a sectarian war … but worst of all it is a war on childhood."  
The children of these war-torn areas have simple desires Canadians take for granted, she said: peace, safety and a chance to return to school.
The telling of these kinds of stories helps humanize these dreadful situations, said Doucet.
 "No one can say anymore, 'I didn't know that was going on,'" she said.